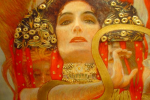 …  CHART NUMBER SEVEN, Which is the chart of degenerate serial killer and psychopath Ted Bundy.
Even his own defense lawyer was quoted as saying, "Ted  was the very definition of heartless evil."
We will go over the BML influence in this chart and then continue with the others, focusing on the way the black moon integrates itself within the rest of the chart.
Congrats to all who came to the right conclusion!  Well done.
---
About this entry
You're currently reading an entry written by Dawn Bodrogi
Published:

09.16.14 / 12pm
Category:
Tags:
Pages