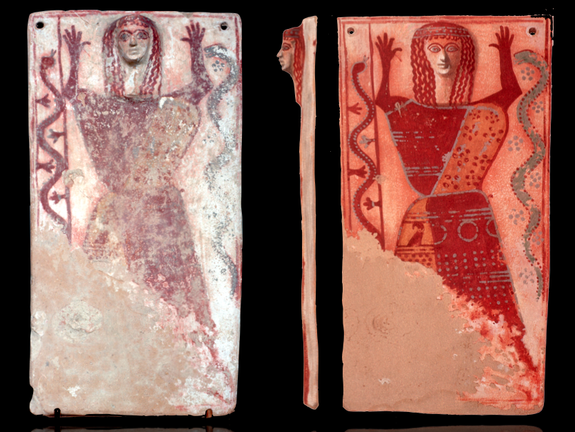 With the return of the dark comes the return of the Dark Goddess.  In Part Two of this course, we examine the role she plays in relationships.
This course is for all of you who have taken Part One.  We have studied the different faces of the Dark Goddess as she appears in the four major asteroids Pallas, Vesta, Juno and Ceres, contrasting her with the pointed chaos of The Black Moon.  Although each of the asteroids has a role to play in successful, mature relationship, the goddess can be fickle, and when she turns, she turns.  She points us either to wisdom or destruction, to contentment and rationality or to ruthlessness and terror.  The choice is ours.  And the role she plays in our natal charts speaks directly to the kind of choices will will make in relationships.  "Will I ever be happy in relationship?" we often ask.  Forget about Venus, and look a little further and a little deeper into the mirror.
Will Pallas cause us to enter creative partnerships, or will we cut off intellectually before we give them a chance?  Will Juno point us toward fairness and sexual equality in relationships, or will I always play the role of the child or the parent?  Does Vesta make every relationship a cry for, "All or nothing at all?"  Does Ceres demand that I give without receiving, or do I expect my partners to feed my needs?  Does the Black Moon make him a heartless seducer?
This class consists of four parts, each one 90 minutes long.  In each one we will discuss one asteroid and the way the Black Moon plays as contrast.  We will also discuss how to judge relationship potential.
The class is run like all my classes, one to one on the phone, one class per week.  It is recorded and the link to download will be sent to you via email.  I will send charts and other material each week.
We begin the week of November 27th and end on or before December 23rd.  I have begun scheduling now.  Classes are available between noon and 4:30 pm Eastern time every day but Sunday.  Please email me if you are interested (alcuin9@gmail.com) and let me know your availability.
Usually, the Dark Goddess part one is a pre-requisite, but if you can prove to me that you have updated knowledge of the four major asteroids and the black moon (for example, you have read about them on this or other sites, or have read my article on Vesta for The Mountain Astrologer), I may make exceptions.
The price of the course is $250 for the four sessions.
I look forward to pushing the envelope with you.
Dawn
---
About this entry
You're currently reading an entry written by Dawn Bodrogi
Published:

11.11.16 / 5pm
Category:
Tags:
Pages